From this past November 9th ( a box went into the mail ) to last Thursday Dec. 10th ( the box was opened ), I experienced the rare privilege of feeling like a little kid again. I don't think I've looked forward to something so much as I did "Critical Role's" CRITMAS episode this past Thursday night.
For the uninitiated, "Critical Role" is the name of a live streaming video program on the "Geek and Sundry" Twitch channel. Nearly every Thursday night, they live-stream actual play of a Dungeons & Dragons campaign. What makes them exceptional and stand out from so many, many other actual play vidcasts/podcasts/videos is that the players are all professional actors living in Los Angeles and their Dungeon Master (also a professional actor) is a game/story/performance genius.
Once I began sampling their episodes I was COMPLETELY hooked and an instant fan. My immediate impression was, "These people are no strangers to Fantasy, Literature and Gaming.. they're not just trying out this D&D thing as a way to keep busy between jobs… these people have been playing together for a while… and they genuinely ENJOY it." ( As it happens . . this group was meeting to play D&D for 2 years before "Critical Role" was even a possibility.)
But to return to that rare feeling of anticipation . . . At the time of this writing, it has been possible to actually send physical honest-to-pete snail mail items to the cast and crew of this wonderful online endeavor and many of their fans (myself included) have jumped on the opportunity to express appreciation for their artistry and imagination in the form of gifts. That alone is a WONDERFUL throw-back to when celebrities could actually be sent gifts and fan mail. The added and FANTASTIC bonus is that they're nice enough to open their letters and gifts "on the air" so to speak.. during the live video stream. I'm probably wrong, but I don't think anything like that has been done in popular, wide distribution media since the 1950's!
In fact, Critical Role has received so many gifts, they've had to allow extra time in their programming in order to open all of the parcels, naming the new show segment "Critmas". Seeing this happen..in MY opinion..is one of the very BEST gifts they can give to the generous and creative people who watch them and want to see the program thrive and continue. I know for sure… I was on pins and needles for four weeks looking forward to the arrival and unboxing of the "Natural Twenty Tablets" I sent them.
There wasn't nearly enough time for the tags to be read but each bottle had one:
Please give this to Felicia Day. A Woman made of CONCENTRATED AWESOME. 'Can't thank her enough for creating a place where Critical Role could happen.
Please give this to Laura Bailey. Her willing suspension of disbelief, along with the BEAUTIFUL sense of Wonder she displays as the story unfolds . . makes us all Glow inside With JOY.
Please give this to Liam O'Brien. A Rogue of Remarkable Wit and Eloquence, and the Lethal Weapon of Vox Machina.
Please give this bottle away as a contest prize, or part of a "prize package" in any one of your giveaways. 🙂
Please give this to Ashley Johnson. The Cleric of Love, Light, Healing and a Living example of Great Power in the Right hands. Come back Soon!
Please give this to Sam Riegel. More reliable than a Magic Missile for keeping the PURE FUN and laughter at the table.
Please give this to Taliesin Jaffe. The Tortured Tinkerer who aims for 'closure' but at what explosive price?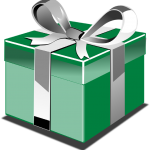 Please give this to Travis Willingham. The Living Embodiment of ALL our inner monologues as we sit in traffic or listen to politicians speak.
Please give this to Matthew Mercer. The Hub, Linch-Pin and Genius at the Center of the Magic. Sir, you are BEYOND impressive!
Please give this to Marisha Ray. The Lovely, Unstoppable Force of Nature and the Enlightened Conscience of Vox Machina.
Please give this to Orion Acaba. The Dragonborn of Deep Passion for Knowledge and a Social Awkwardness that Plagues us ALL. (Safe Journeys to you.)
I realize that you don't all live together in a magical tree house ( …which is kind of a shame, really . . .) but, could someone, somehow, for the love-a-god PLEASE get this bottle to Wil Wheaton before the Universe Implodes?
Just for clarification's sake, I should point out that NOBODY at Geek and Sundry Nor any of the "Critical Role" cast or crew EVER solicited gifts of any kind. They've been very grateful, kind and gracious in accepting them, but they encourage viewers to donate to charity in the name of the program, or it's individual cast members rather than send presents. I think it's important to emphasize that. These are not inflated "Diva's". They're artists with special vocal performance skills who have discovered ( or always KNEW ) just how warm a welcome RP GAMERS can give.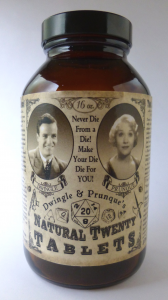 So . .back to that "excited little kid" feeling. It was just plain FUN anticipating the show, knowing that it was going to be "gift opening night" and hoping the "Game Specific" AntiPills Bottle would put a smile on some faces. When the date finally arrived I wasn't disappointed. The box of AntiPills was set down right in front of their Druid ( Marisha Ray ).. and took it's place among the many superb, hand-crafted or carefully selected presents that came before and after. She even read a portion of the note included. I'm STILL smiling!
I don't have any kids, but it felt to me like I was staring impatiently, waiting for my own "adopted" children to open up their presents on Christmas morning. 🙂 ( Most of the cast seem like younger versions of ME by about 25 years – Click here and just look at the first dozen or so pictures. I decorated those bookstore windows with items that I brought from home. I took those pictures in 1983! )
It's probably a foolhardy thought really. I don't think I'd be seeing living re-creations of all my interests in kids of my OWN if I'd had any. My own Kids would more likely be into Sports, Insurance Statistics and Business Studies, just to be sure they did NOT take after "Dad".
At any rate… Every member of Critical Role was sent a 'Dwingle & Prunque's' Jar, and I included free gift bottle codes for the studio producers/crew members so that they could select an AntiPills bottle from the full collection. ( Not all production professionals are into table-top gaming ).
Now that it's over, It almost feels as if December 25th will be anticlimactic. O_o But….. I must express my Deepest thanks again to "Geek and Sundry" – "Critical Role" – and all their Fans ( critters ) for making the past few months a real joy and a nostalgic BLAST ! I once again experienced after MANY years, PROOF that's it's more fun to give gifts than to get them. And who knows . . . I may have even succeeded in getting that free Antipills Bottle to Wil Wheaton after all! 🙂 – anim5 14-DEC-2015
Edit – Addition 01-MAY-2016 : Sent some more stuff to these fine folks to help celebrate their 50th Episode. 🙂