Too much time has passed since my last blog entry . . . I shall now feel Awful about it for the next 8 seconds.
( pause ) …and now I'm finished.
Is there News? Of Course! . . Since the last entry . . .
AntiPills
.com was listed on "Dark Roasted Blend" ! . . I watched
in the magic window of Google Analytics and timed the intervals on my 
Rouchefoucauld
as
antipills
site pages were visited from
Monte Carlo, Beverly Hills, London, Paris, Rome and
Staad
!*
Also in the intervening time I released "Lydia
Landsinger's
Luck Loaded Lozenges". A Fine new addition to the Magnificent Mock Medicine
Menagerie.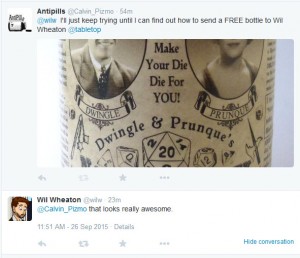 Perhaps though . . the High point that I missed blogging about was a Tweet commented on by none other than
Wil
Wheaton
Himself re: "
Dwingle
and
Prunque's
Natural Twenty Tablets". It absolutely Made my MONTH!
Anyone
fortunate enough to have seen him playing D&D with the Miraculous CRITICAL ROLE . .
will know that he is in DIRE need of that remedy! Hopefully, one day … I'll be able to get at least the Bottle into his possession. 🙂
* If you picked up on that film reference . . . Hiya!! Are you as Old as I am? 🙂